Space Madness
Heya friends! 

What a week it's been. Here are a few items from the vast internet that I thought were worth sharing :)
1. If, like me, you were transfixed by the brilliant insanity of Ren and Stimpy during the 1990s, then you might be interested to know that 'Happy Happy Joy Joy: The Ren and Stimpy Story', a documentary on the history, development, and impact of the animated series, will be released next month! Here's the trailer. 

2. Internet filter bubbles are real and have serious consequences in how we understand reality. Our news feeds are algorithmically determined by browsing habits that push us deeper into silos of bias and extremism. Specifically, Youtube's recommended video tool is built to maximize watch time and often leads to an uptick in suggested shocking or controversial content (See the NYT's podcast Rabbit Hole). The more Youtube we watch, the more those recommended videos become tailored to our watch history and it becomes increasingly difficult to find alternate views or perspectives. To combat this insularity, Tomo Kihara developed TheirTube: 
Theirtube is a Youtube filter bubble simulator that provides a look into how videos are recommended on other people's YouTube. Users can experience how the YouTube home page would look for six different personas. Each persona simulates the viewing environment of real Youtube users who experienced being inside a recommendation bubble through recreating a Youtube account with a similar viewing history.
3. I was utterly fascinated by this New Yorker piece on the paradigm-breaking work of Simulmatics Corporation, a pioneer in the use of big data to model and predict human behavior, specifically as it related to JFK's 1960 Presidential campaign. Looking back from the vantage point of 2020, our transactional and transformational relationship with data aggregators, behavior models, and targeted advertising seem inevitable, but it needn't have been so. When asked about the possibility of employing Simulmatics for Kennedy's campaign, Arthur Schlesinger responded:
"I shudder at the implication for public leadership of the notion . . . that a man shouldn't say something until it is cleared with the machine." But he wasn't going to thwart it. "I do believe in science and don't like to be a party to choking off new ideas."
4. In my experience, educational technology is often a double-edged sword: access to new tools and platforms (yay!), but at a price that more often than not includes the mining of students' personal data (boo!). There is a balancing act that requires near constant vigilance as we purchase, download, and deploy services to our students and teachers. This week, I've been reading through Ethical EdTech, a wiki filled with resources to help identify and support "tools that value user freedom, privacy, and control, so that these norms might become more easily within reach." You should also check out their Ethical EdTech syllabus.
5. Finally, we just finished watching both seasons of Gravity Falls on Disney+. Highly recommended! Incredibly imaginative, with great characters and loads of ciphers, mystery, and silliness :)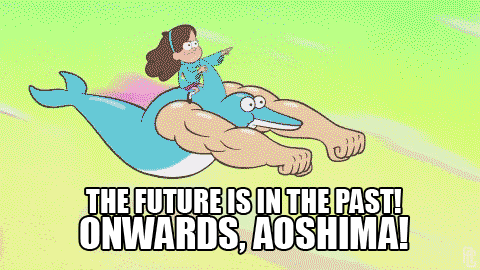 Thanks for reading! Until next time,
David