If a Tree Grows in the Forest...
will anyone be paying enough attention to notice it?
The garden is growing out of control, my inbox is overflowing with updates and schedules, and I'm starting to have Back to School dreams - the end of summer must be nigh! Here's a handful of items from across the internet that I thought were worth sharing. Enjoy :)
---
Could this New Yorker cartoon be any more on the nose? I feel judged.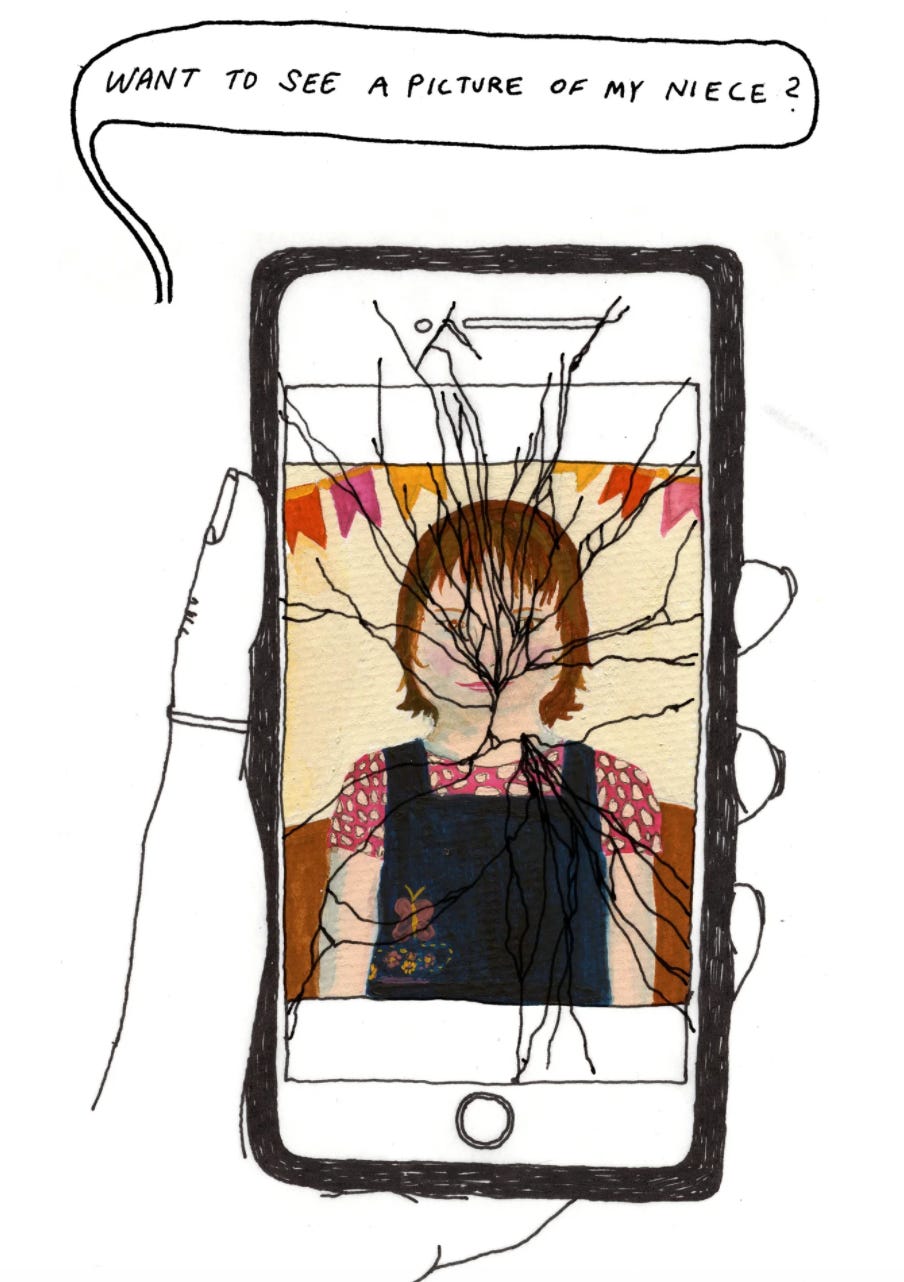 ---
Maybe growing a virtual forest will be just the ticket to minimize digital distractions and push the limits of your attention span? 🌳🌳🌳I'm hopefully optimistic that I'll do better with my trees than I did with my Tamagotchi back in the late 90s 😬
---
I was tickled when I stumbled upon this stunning exploration of the UX of LEGO interface panels. Looking ahead at my class schedule for the upcoming year, this would be a great hook for a design class…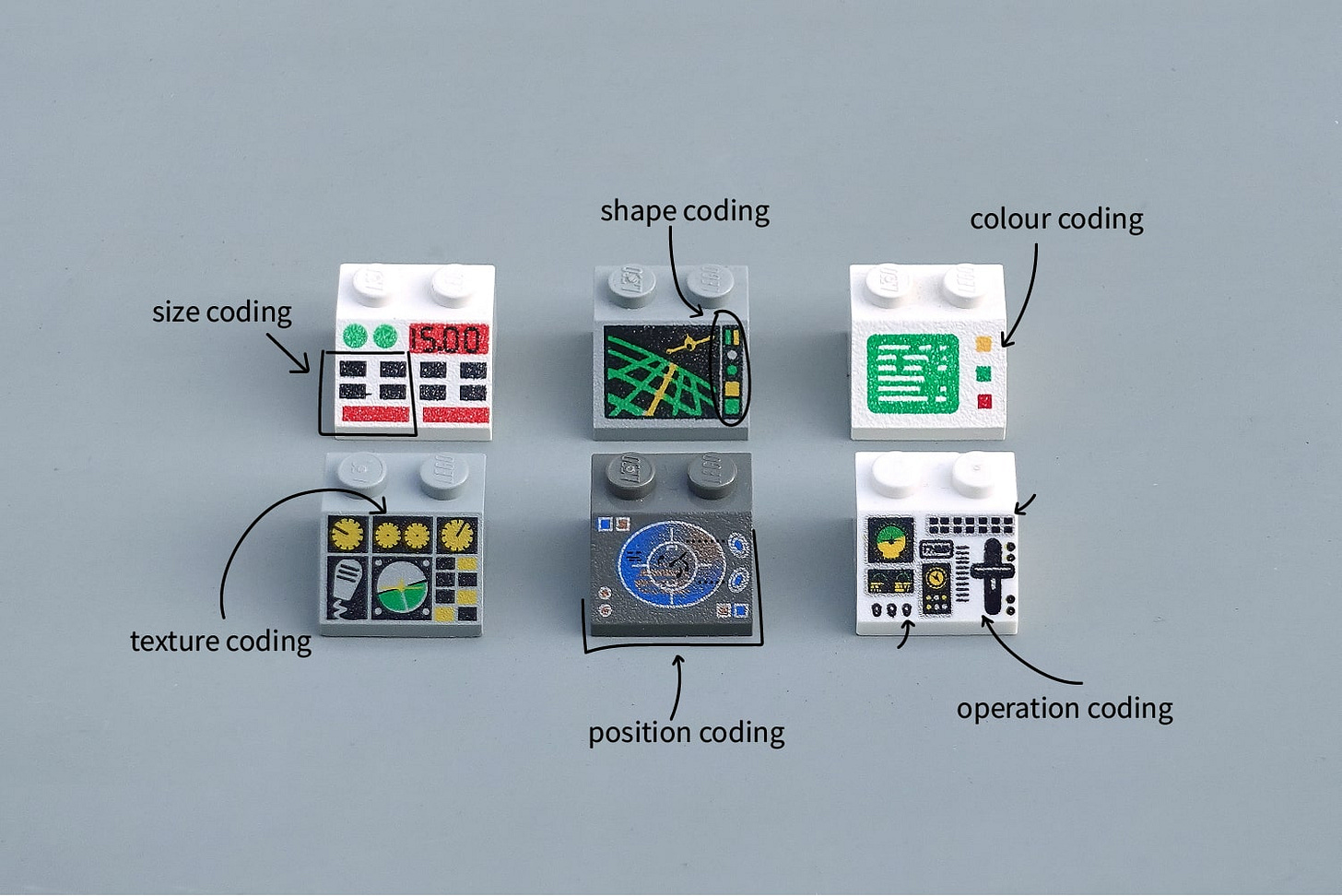 ---
The Oatmeal just published a remarkable longform comic about The Backfire Effect, a tendency of the human brain which, according to David McRaney, can be summed up thusly: "When your deepest convictions are challenged by contradictory evidence, your beliefs get stronger." In a podcast on the same topic, McRaney interviews Sarah Gimbel, a researcher at the Brain and Creativity Institute and Psychology Department at USC. In the conversation, Gimbel states: "Remember that the brain's first and primary job is to protect ourselves… The brain is basically a big, complicated, sophisticated machine for self-protection, and that extends beyond our physical self, to our psychological self. Once these things become part of our psychological self, I think they are then afforded all the same protections that the brain gives to the body."
There are so many snippets and drawing in this comic that I want to share here, but it's really worth reading and enjoying in its entirety. They also include a thorough list of citations and resources for further reading that you should check out. Reviewing it again just now, I'm reminded of a few things. First, this New Yorker article from 2017 about the limits of reason and the difficulty in getting people to change their minds:
Mercier and Sperber prefer the term "myside bias." Humans, they point out, aren't randomly credulous. Presented with someone else's argument, we're quite adept at spotting the weaknesses. Almost invariably, the positions we're blind about are our own.
And second, this uber classic xkcd cartoon that has remained relevant and ageless since it was first published: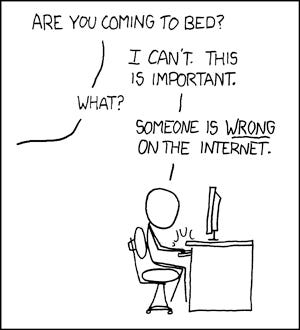 ---
I know some people consider chillwave and synthwave to be music that should be enjoyed ✌️ironically✌️, but I am honestly loving the vibe of Gunship and, in particular, Drone Racing League. Between Gunship and Time Cop 1983, my driving music playlist is 🔥🔥🔥.
---
Finally, I think it's important that you know I love sci-fi and fantasy stories. It therefore only makes sense that we should sell our house and buy a castle somewhere. Who's with me?
---
That's it for now! Have a great week :) - David